Nielsoft Finance recommends you when to take risks and when not to.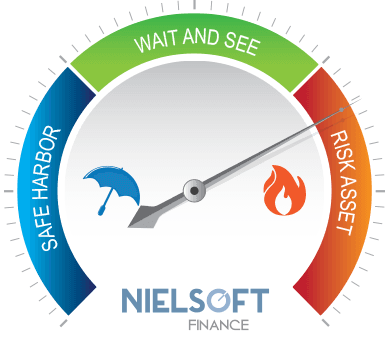 Our clients can access, each time a change is confirmed in the trend of the profitability of the risky assets, our recommendation that may contain three kinds of messages:
Take refuge in a safe harbor
Stay still (Wait & See)
Take risks in a risky asset
When our recommendation changes, an alert is generated and sent to the email of each of our clients.
There is no secret in our strategy
We are not able to predict the future. We monitor markets on a daily basis and statistically determine the profitability trend of the risky asset.
As confirmed a trend reversal to the downside, we move to the safe harbor. We remain there until it is confirmed that the trend has reversed to the upside, and only then re-enter to the risky asset.
This ensures that we always assume the first part of the losses, and we allways miss the first part of the hike. But in the long run we have always achieved higher returns than the risky and the conservative asset.
We all know that equities will be more profitable in the long term, but there is no reason to keep those positions if the fall is imminent.
Service Guarantees
No credit risk. Your money is always with your broker. We are not money managers.
We don't have transactions fee. We minimize the number of transactions.
We perform only in order to boost security and profitability of your savings.
For fiduciary purposes, part of our capital (initially $120,000), is invested in the same assets we recommend.
Our advice is equal and simultaneous for every customer
Our decisions are backed on daily monitoring and analysis of the stock market.
We can`t guess the future, but we can chart a profitable and safe path.
Although our performance is very good, we can't guarantee any financial results